Since Freelancer.com stopped supporting Freelancer Debit Card (Payoneer MasterCard). So many freelancers having trouble withdrawing money. Also, Freelancer's conversion rates are lower then Payoneer's rate. For example – If Freelancer.com paying 1 USD = 81 BDT, you'll see Payoneer would pay 82-83 BDT. Hopefully, same for other currencies. By the end of this article, you'll know how to transfer funds from freelancer to payoneer.
So… We gonna use Payoneer Global Payment Service (Bank Account) to withdraw money from Freelancer.com to Payoneer account. We can use the money to shop online using Payoneer's Master Card. Hopefully, we can withdraw from any other marketplaces (eg. Upwork, Fiverr, Legiit, PeoplePerHour supports express withdrawal) via Payoneer's Global Payment Service.
Years ago i talked with Payoneer's support, they said these Bank Accounts comes from real Banks. So, no risk at all on this method! But, For security reasons Freelancer.com takes up to 15 days for First withdrawal (mine took a week). For more details, Take a look at here in "Processing Times" section.
To get Payoneer's bank details, log into your Payoneer account. Click on Global Payment Service under Receive in the menu. See the screen shot.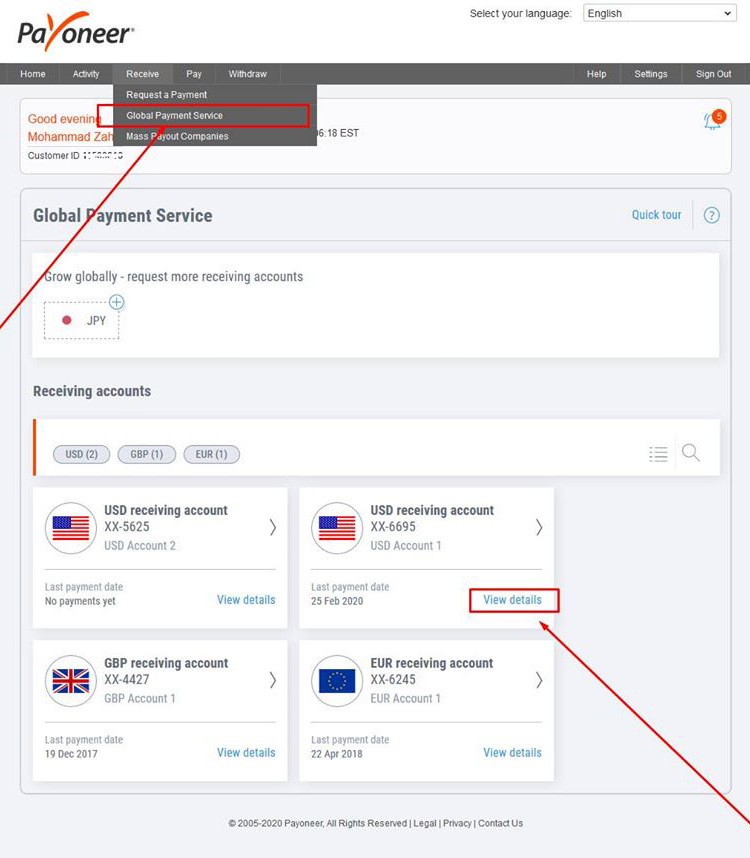 You'll see some or at least 1 box below the Receiving accounts section. Click on "View Details" link inside the box. It will open a Popup with bank details (eg. USD Account) info you'll need when you are withdrawing from Freelancer.com by Express Withdrawal, check the screen shot.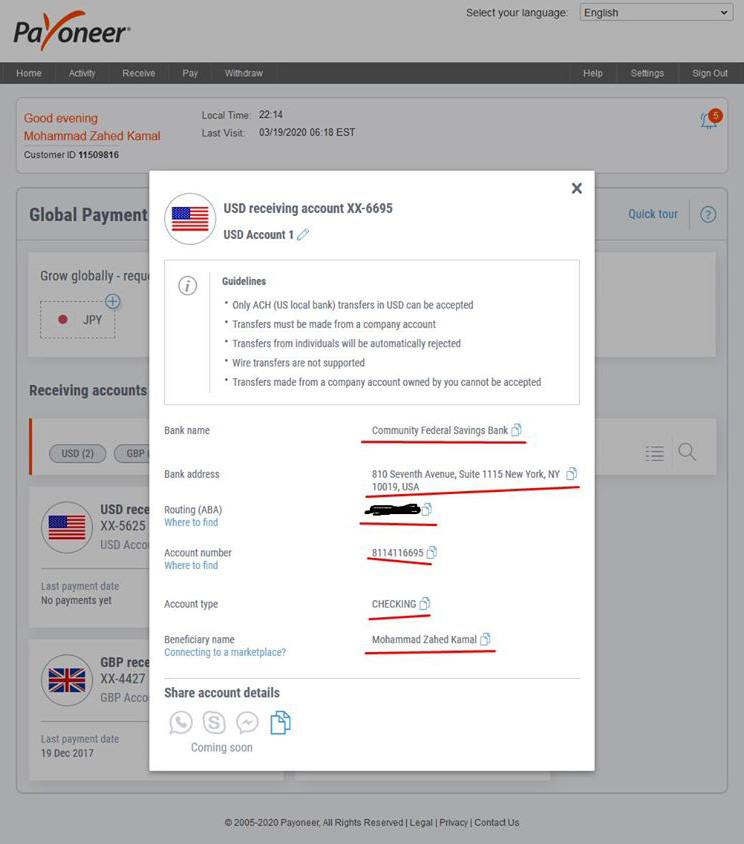 Note that, Payoneer by default provides an account USD from a USA Bank. But If you need bank account for other currency like GBP, EUR etc, contact with the Payoneer's Support team. They'll give you new bank account in a couple of days. Payoneer providing bank account for other few currencies too. For more details on which currencies account they are providing, visit Payoneer FAQ and view the Q. From what countries and in what currencies can I receive payments via the Global Payment Service?
Now, to withdraw from Freelancer.com, use Express Withdrawal option from Withdrawal Request page, then pick "United State" from "Country of Bank Account". Then just fill up the form like the screen shot below, using the info you got from the Bank Details popup in Payoneer. If you want to withdraw other currency based funds/money from Freelancer.com, you'll use that bank account's country and details from Payoneer's account details popup.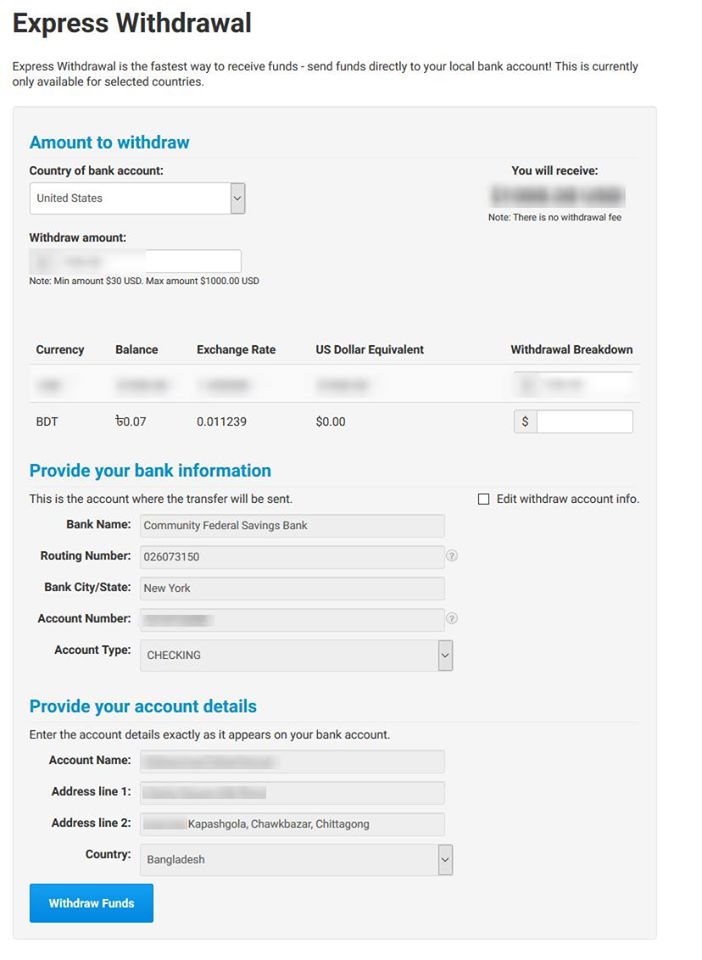 But remember, if you've money/funds on other countries that Payoneer don't provide any bank account (eg. INR, BDT etc), then the best option would be Freelancer.com to your local bank account.
Best time for withdrawal is before Monday. If you do it Monday best chances you'll get the money on Payoneer Tuesday. Then you can withdraw form Payoneer on Tuesday.
Side Note – Don't talk with Support team about this Payoneer's Bank Account. They might tell you that, you cannot use Payoneer. Because they may not have the knowledge about the Bank Account Payoneer provides.